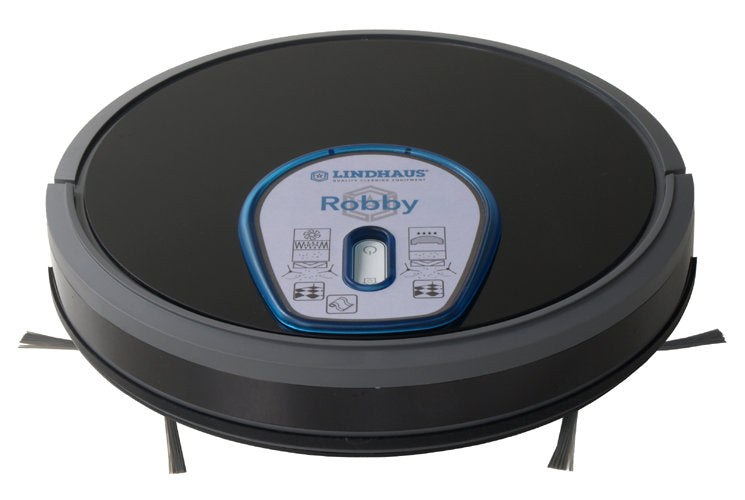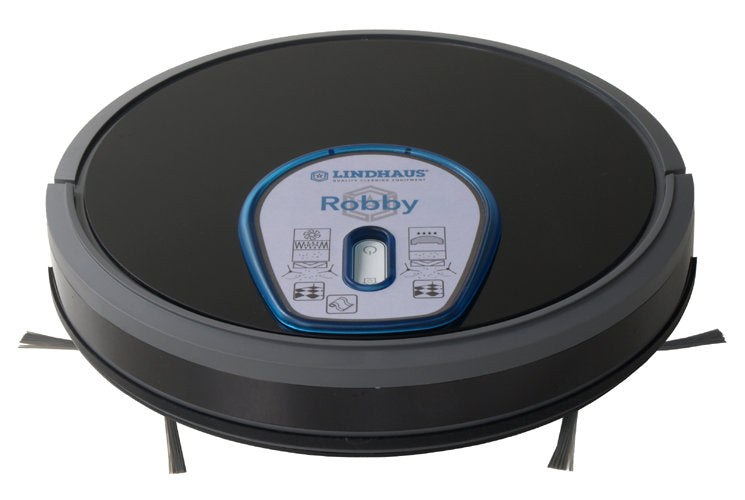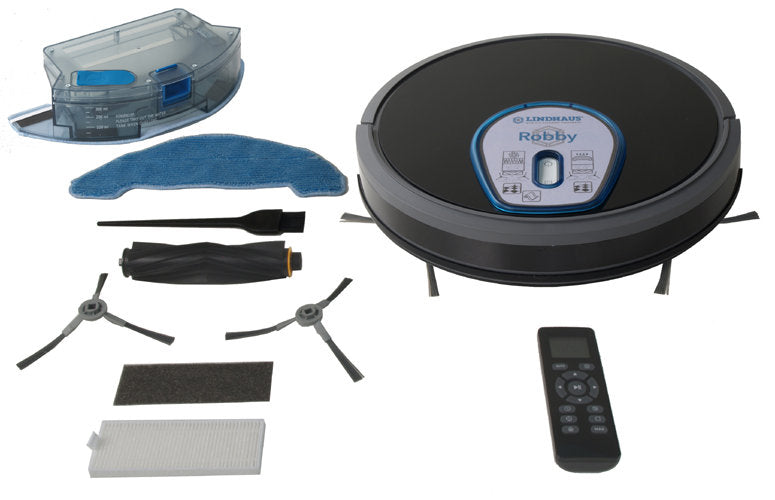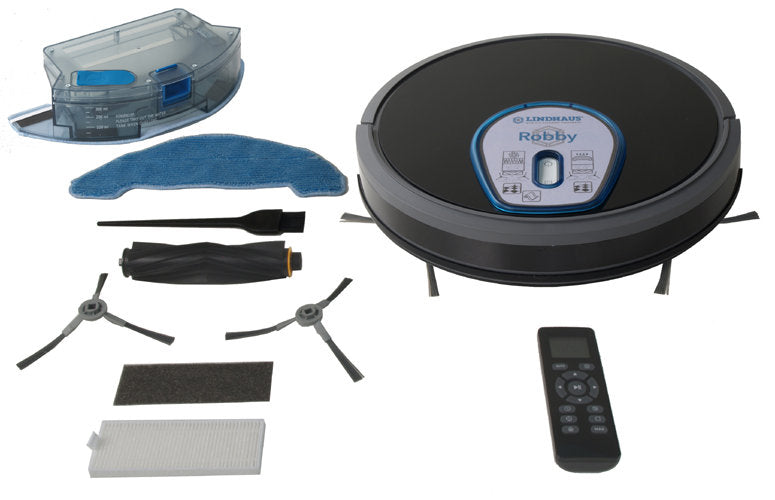 Lindhaus Robby
$549.00
Regular price
$749.00
off
In Stock Shipping is FREE!
Need advice? Our staff are experts with a long experience in the business. We're here to help with any questions you may have.
Description
Details
Specs
The new intelligent robot from Lindhaus is now available to make your life easier! Vacuum and wash your floors with ease and convenience with this revolutionary new robot. No more manual labor needed - this robot is the perfect solution for busy households.
It goes everywhere
Robby is only 8 cm tall and passes easily under the beds, low furniture and suspended sanitary ware both when it sweeps and sucks and when it washes.
Its long side bristles perfectly clean corners and along the wall.
Remote control
All the functions are selected from the remote control, the switching ON and OFF times are programmed and, thanks to the quick choice menu, different paths and types of cleaning can be done with a simple click.
Cleaning system mechanical & suction
The side brushes collect dust and debris by conveying them to the center where the roller collects in the dust bin. Above the dust bin there are 3 filters with final HEPA filter. The digital motor sucks after the HEPA filter. In this way the machine sweeps, sucks and retains dust.
Charging station
When Robby has a low battery with a residual of 20%, automatically turns off the suction motor and the roller / brush motor and returns to the charging station.
Maintenance without tools
Emptying the dust bin is simple and requires no tools, as well as access to all filters. The removal of the roller cover, the roller itself and the side brushes do not require tools.
The water tank releases like the dust bin. Emptying and filling is instinctive.
Washing with microfiber
Robby is also a comfortable floor washing with microfiber cloth. The 0.4 lt water tank makes it possible to wash about 50 m² of floor. The water dosing is electronically adjusted and is uniform over the entire surface of the cloth. Suitable for non-delicate floors: ceramic and linoleum.
Lindhaus Neutrolux cleaner
Lindhaus Neutrolux cleaner concentrate at 1% it is based on perfumed neutral soap and nano sphereof silicon, allows you to sanitize floors of any type including marble and wood creating a shiny effect without making them slippery.
A full set of spare parts supplied
Lindhaus supplies a whole series of spare parts supplied to guarantee at least 1 year of service without additional expenses.
Intelligent system to avoid obstacles
For floors and carpets
Mechanical collection & suction
Cleaning corners and along the wall
Overcome obstacles up to 1.5 cm and do not fall down the stairs
3-level filtration system with HEPA filter
6 motors (suction, roller, 2 brushes, 2 wheels)
Automatic water distribution control
Safety LED flashing lights
Very low profile: only 8 cm
Ultra-silent: only 54 dBA
Lindhaus Robby
$549.00
Regular price
$749.00
Shipping/Delivery/Pickup
Shipping within US
Orders normally ship within 12-24 hours after submission. However, due to abnormally high order volume, our processing times can reach up to 2-3 business days. Our daily shipping cutoff time is 3pm PST. Order placed after this cutoff will ship the following business day.
We primarily use UPS ground for most shipments, however depending on the product size, weight, and shape we may choose to ship via USPS. If you have an urgent need for expediting shipping rates and times please call us directly at 408-354-4460. We are happy to accommodate.
Store/Curbside Pickup
All orders placed for Curbside pickup at our location will be ready within 1 hour of order placement.
Orders placed after 5pm weekdays and 3pm Saturdays may not be ready until the following business day. You will receive a text and or phone call to let you know when your order is ready. Customers may come into the store to pickup or simply reply to the text message to have your items delivered directly to your car outside. We are located at 457 N. Santa Cruz Ave in Los Gatos.
Designated parking stalls are clearly marked in front of our store for customers.
Local Delivery
Local deliveries will occur typically within 1 to 2 business days, we
will contact you after your order is placed. Local deliveries are
restricted by zip codes, if your address falls within the local delivery zone it will be an available option at checkout to select. If not
please choose the shipping or store/curbside pickup option.

All Things Clean provides true local delivery by one of our staff
experts to hand deliver your products directly to your doorstep. We also now offer unboxing, assembly, and in home product training to get the most out of your purchase and lessen the learning curve. These extra white glove services may be requested and purchased in advance by contacting us directly at 408-354-4460. Please have your order number ready when calling or texting. Rates charged vary by product.