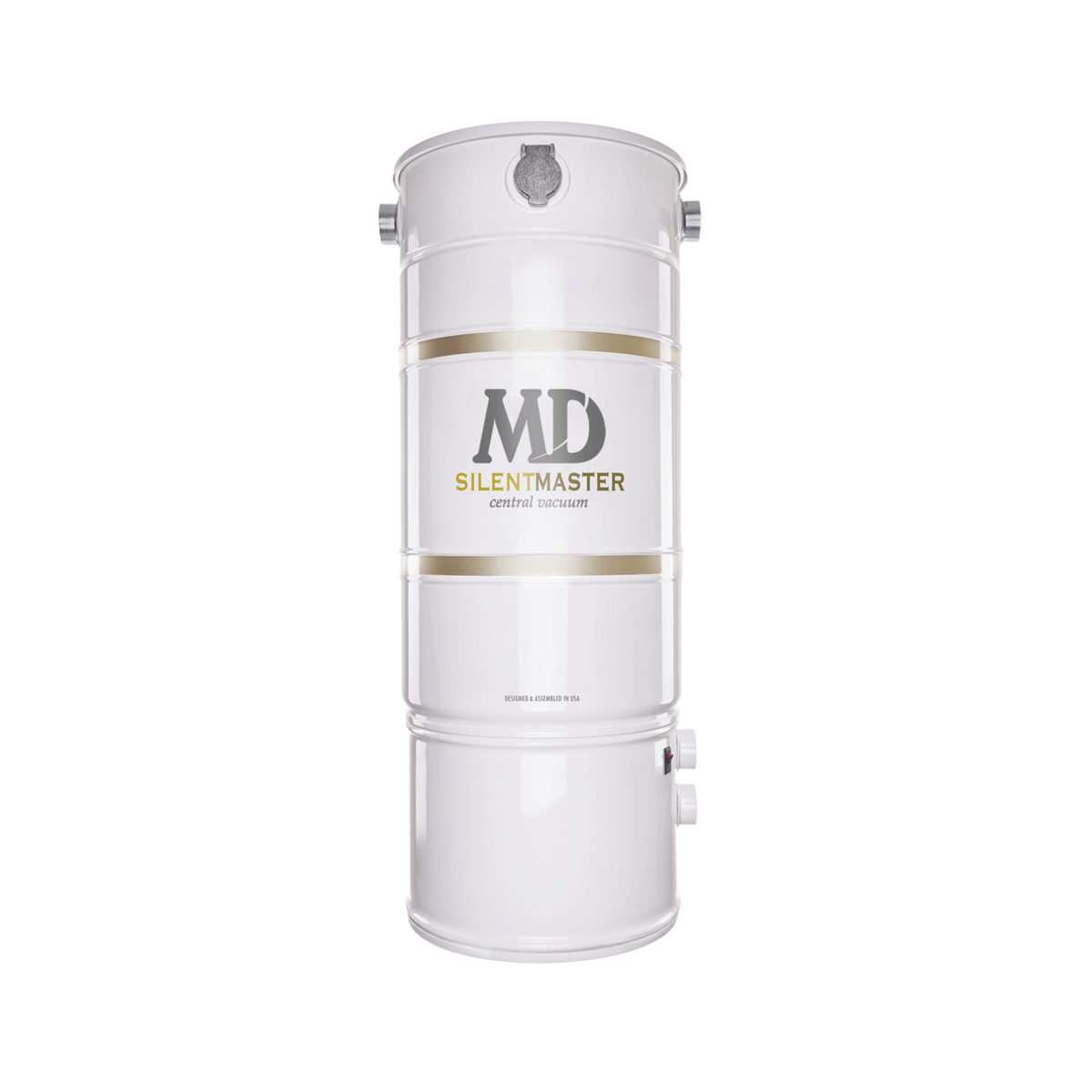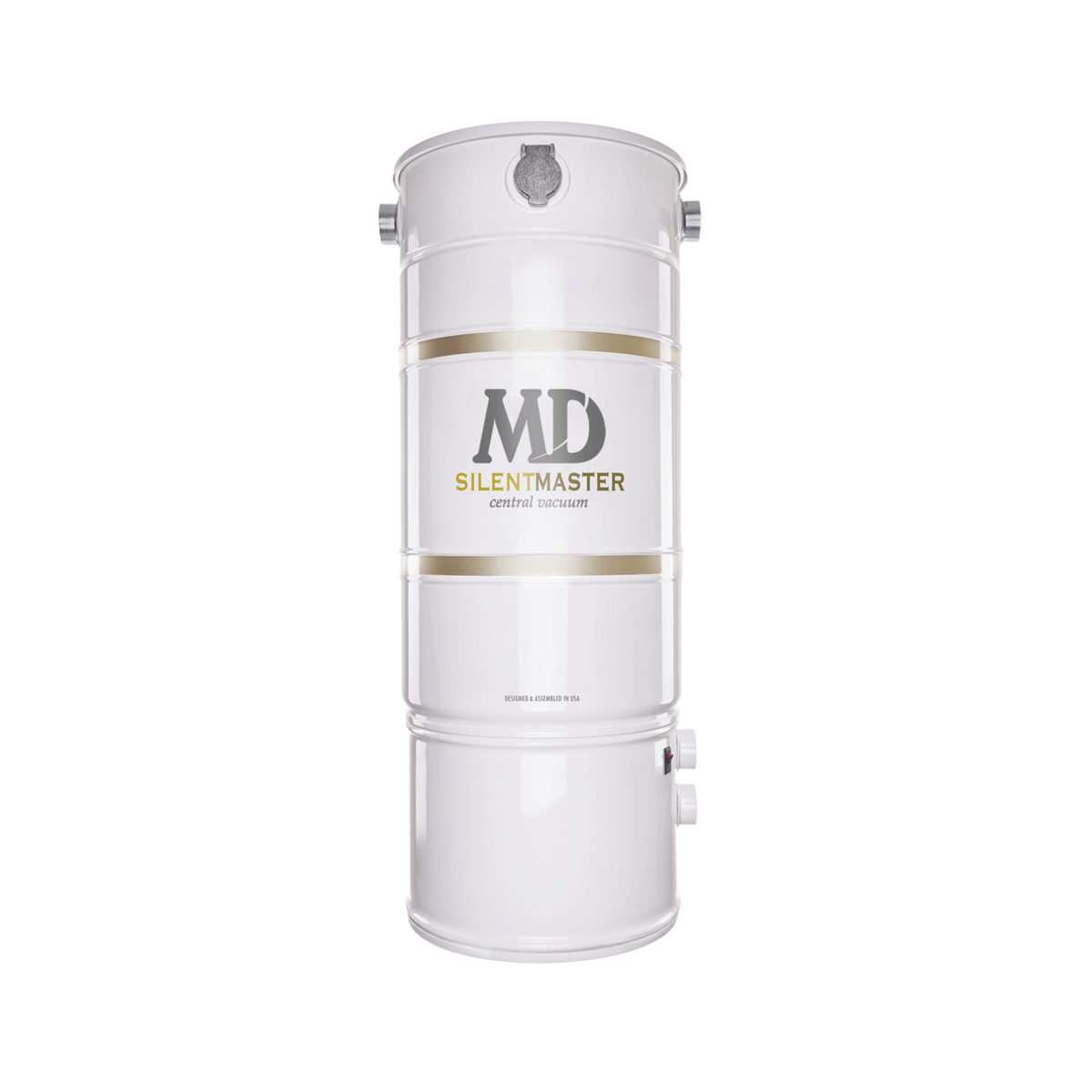 In Stock Shipping is FREE!
Need advice? Our staff are experts with a long experience in the business. We're here to help with any questions you may have.
Single 2-stage 5.7" by-pass motor, 120 volts, Tru-Seal 8 gallon HEPA Bag, 62 dBA, up to 8000 sqft.
Engineered to Please and Perform in Any Home
Assembled in USA
Silent Master's dual-motor units boast high levels of suction and airflow simultaneously which sustains powerful cleaning throughout the system. This higher level of performance is coupled with longevity as the two motors can operate at lower RPM as compared to single motor models.
SilentMaster Highlights
Ultra Quiet Sound Suppression
Excellent Power and Longevity
True 8-Gallon Capacity
Less Filtration Maintenance
More Sustained Suction
Industry Best Warranty
Utility Valve Hose Connection
Maximized Cleaning
Models ranging from 495 to 900 air watts provide deep cleaning power for any home. SilentMaster's Tru-Seal Microfiltration features a closed bag, 5-ply microfilter that connects to both intakes and the utility valve and holds 8 gallons of debris.
Minimized Risk
Silent Master's performance and value are unequaled and backed by a 12-year transferable warranty that even covers "normal wear and tear." Silent Master is MD's premiere power unit line.
Shipping/Delivery/Pickup
Shipping within US
Orders normally ship within 12-24 hours after submission. However, due to abnormally high order volume, our processing times can reach up to 2-3 business days. Our daily shipping cutoff time is 3pm PST. Order placed after this cutoff will ship the following business day.
We primarily use UPS ground for most shipments, however depending on the product size, weight, and shape we may choose to ship via USPS. If you have an urgent need for expediting shipping rates and times please call us directly at 408-354-4460. We are happy to accommodate.
Store/Curbside Pickup
All orders placed for Curbside pickup at our location will be ready within 1 hour of order placement.
Orders placed after 5pm weekdays and 3pm Saturdays may not be ready until the following business day. You will receive a text and or phone call to let you know when your order is ready. Customers may come into the store to pickup or simply reply to the text message to have your items delivered directly to your car outside. We are located at 457 N. Santa Cruz Ave in Los Gatos.
Designated parking stalls are clearly marked in front of our store for customers.
Local Delivery
Local deliveries will occur typically within 1 to 2 business days, we
will contact you after your order is placed. Local deliveries are
restricted by zip codes, if your address falls within the local delivery zone it will be an available option at checkout to select. If not
please choose the shipping or store/curbside pickup option.

All Things Clean provides true local delivery by one of our staff
experts to hand deliver your products directly to your doorstep. We also now offer unboxing, assembly, and in home product training to get the most out of your purchase and lessen the learning curve. These extra white glove services may be requested and purchased in advance by contacting us directly at 408-354-4460. Please have your order number ready when calling or texting. Rates charged vary by product.