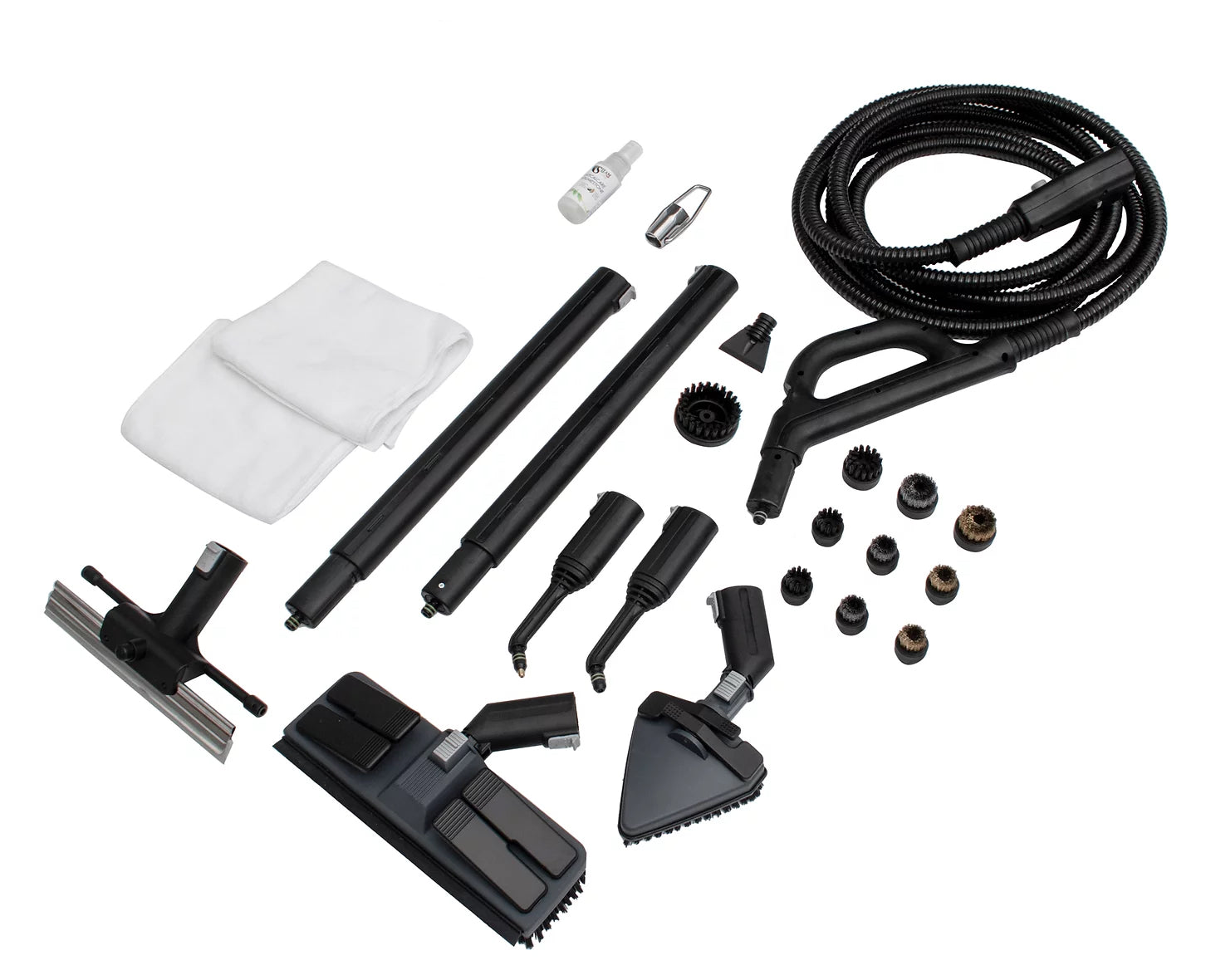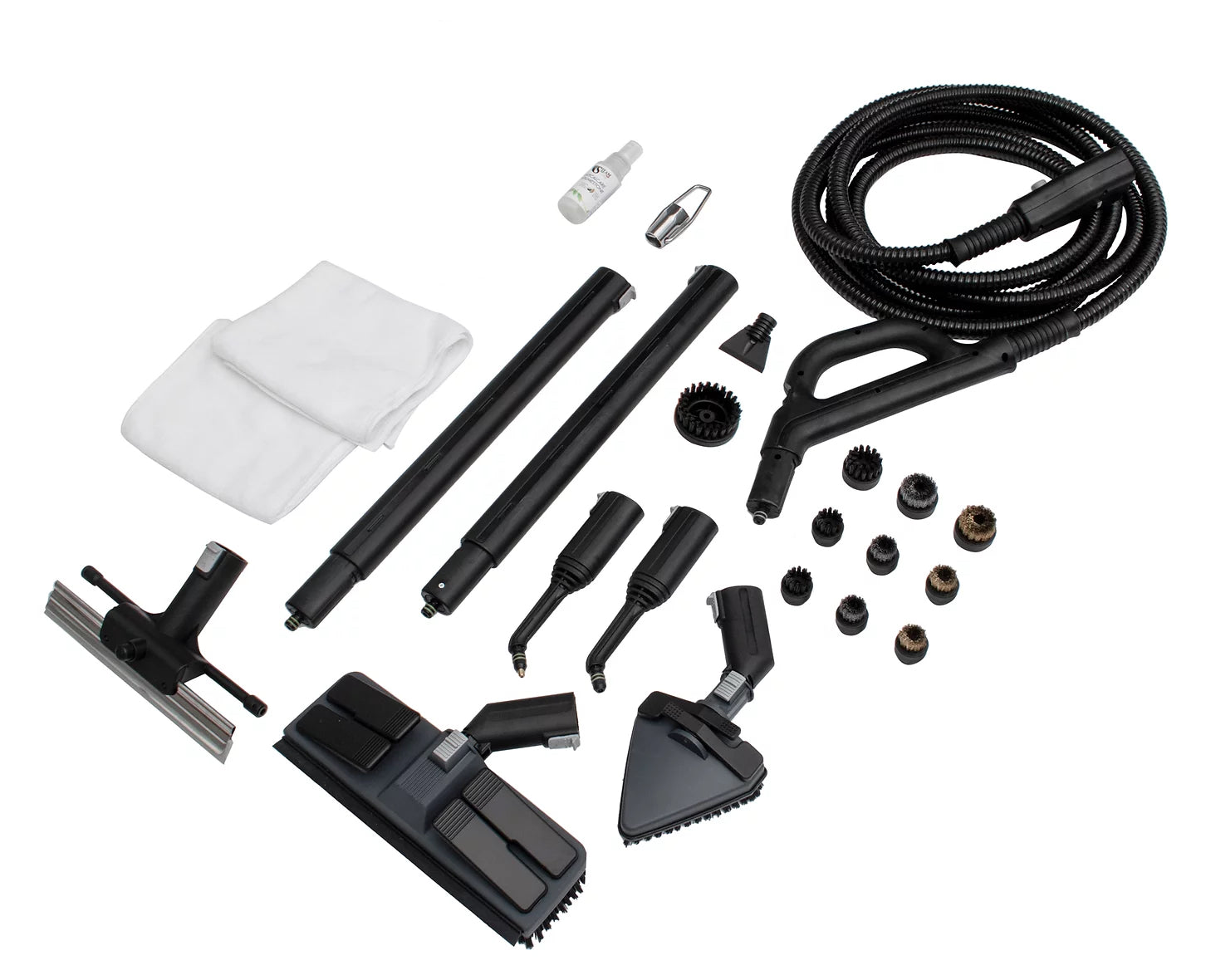 DeLozio Meglio Steam Cleaner
In Stock Shipping is FREE!
Need advice? Our staff are experts with a long experience in the business. We're here to help with any questions you may have.
Description
Details
Specs
In the Box
Warranty
Environmentally Friendly
The ecological power of steam lets you clean, disinfect, and sterilize without using any chemicals. Even tough jobs, like grout cleaning, and scale removal can be done without resorting to traditional toxic cleaning chemicals. Regular tap water is all that is needed to kill germs, bacteria, dust mites and even bed bugs.
Continuous Steam

Most steam cleaners on the market force you to take an hour long break once the machine runs out of water, before you can open the reservoir. A one hour job can quickly become a 2 or 3 hour job, once you factor in the waiting periods. Meglio is equipped with a commercial quality reservoir pump that allows you to add water at any time during use, with zero downtime.
Safety first
The toxic fumes that come with grout cleaning acid have been proven to be harmful, even causing burns. Even worse, the chemicals linger in your home for hours or even days. Forget about heavy gloves, masks, goggles and strong acid. DeLozio Steam cleaners use only water to make your grout look like new.
Ease of Use

Less expensive "steam cleaners" can't generate the temperatures required to create dry steam. That's why the hoses are so short (6 feet or less). With a 6 foot hose, you can barely move without having to pull the machine towards you. The Meglio is equipped with a commercial quality 8 foot hose, 25% longer than convenience store brands.
Best in class. UL and CSA certified.
Steam temperature: 165°C | 347°F
Steam pressure: 6.5 bars | 94 psi
Voltage: 110-120 V
Dimensions: 12" dia. x 13" ht
Weight: 13 lbs
Cleaning time (between each refill): Unlimited, continuous flow
Heating time: 6 minutes
Boiler assembly material: AISI 304 stainless steel
Boiler volume: 0.42 gal.
Water tank: 0.34 gal.
Pressure regulation option: 3 levels, controled on the handle
Steam hose length: 8.2 ft
Power cable length: 16.4 ft
Body material: Lightweight ultra resistant polycarbonate
8 ft. Hose
12 in. Floor Brush
Triangle Floor Brush
Window Squeegee
2 Extension Wands
2 Steam Lances, 1 with Brass Tip
Small, Medium, and Large Precision Brushes in Polyester, Brass, and Stainless Steel
Extra Large Polyester Precision Brush
Sticker Removal Tool
Fill Bottle
Anticalcare Descaler
2 Microfiber Towels
Drain Plug Removal Tool
Spare O-Rings
3 years
DeLozio Meglio Steam Cleaner
Shipping/Delivery/Pickup
Shipping within US
Orders normally ship within 12-24 hours after submission. However, due to abnormally high order volume, our processing times can reach up to 2-3 business days. Our daily shipping cutoff time is 3pm PST. Order placed after this cutoff will ship the following business day.
We primarily use UPS ground for most shipments, however depending on the product size, weight, and shape we may choose to ship via USPS. If you have an urgent need for expediting shipping rates and times please call us directly at 408-354-4460. We are happy to accommodate.
Store/Curbside Pickup
All orders placed for Curbside pickup at our location will be ready within 1 hour of order placement.
Orders placed after 5pm weekdays and 3pm Saturdays may not be ready until the following business day. You will receive a text and or phone call to let you know when your order is ready. Customers may come into the store to pickup or simply reply to the text message to have your items delivered directly to your car outside. We are located at 457 N. Santa Cruz Ave in Los Gatos.
Designated parking stalls are clearly marked in front of our store for customers.
Local Delivery
Local deliveries will occur typically within 1 to 2 business days, we
will contact you after your order is placed. Local deliveries are
restricted by zip codes, if your address falls within the local delivery zone it will be an available option at checkout to select. If not
please choose the shipping or store/curbside pickup option.

All Things Clean provides true local delivery by one of our staff
experts to hand deliver your products directly to your doorstep. We also now offer unboxing, assembly, and in home product training to get the most out of your purchase and lessen the learning curve. These extra white glove services may be requested and purchased in advance by contacting us directly at 408-354-4460. Please have your order number ready when calling or texting. Rates charged vary by product.