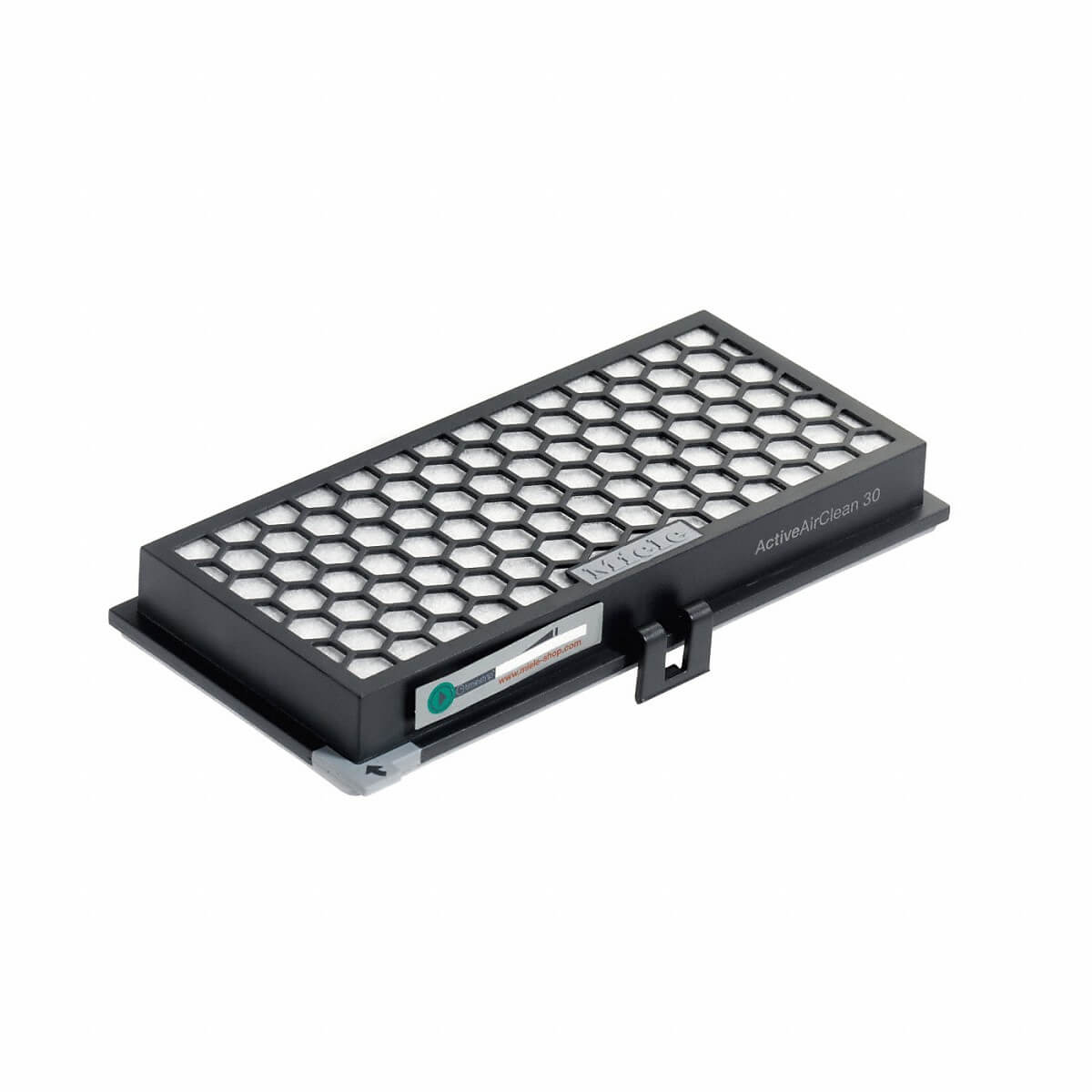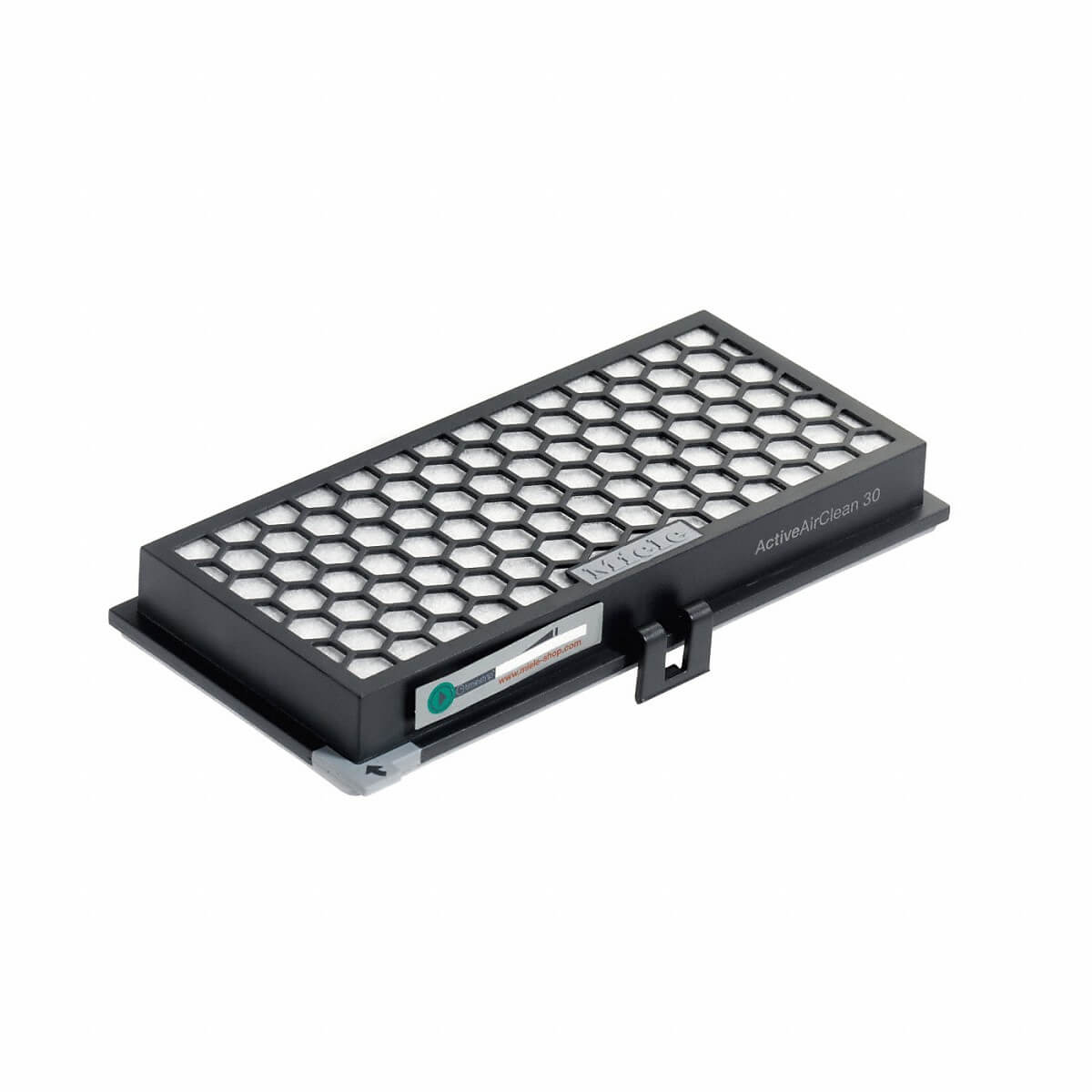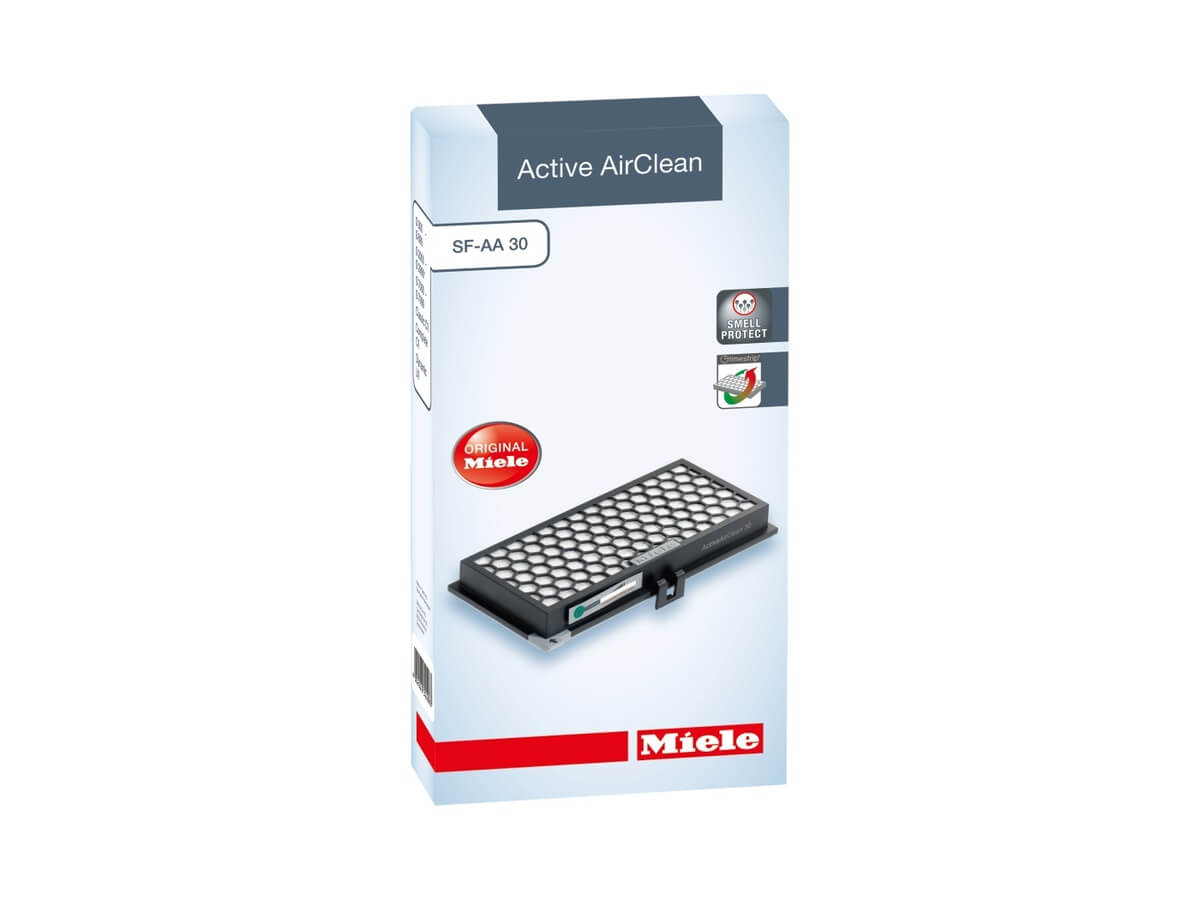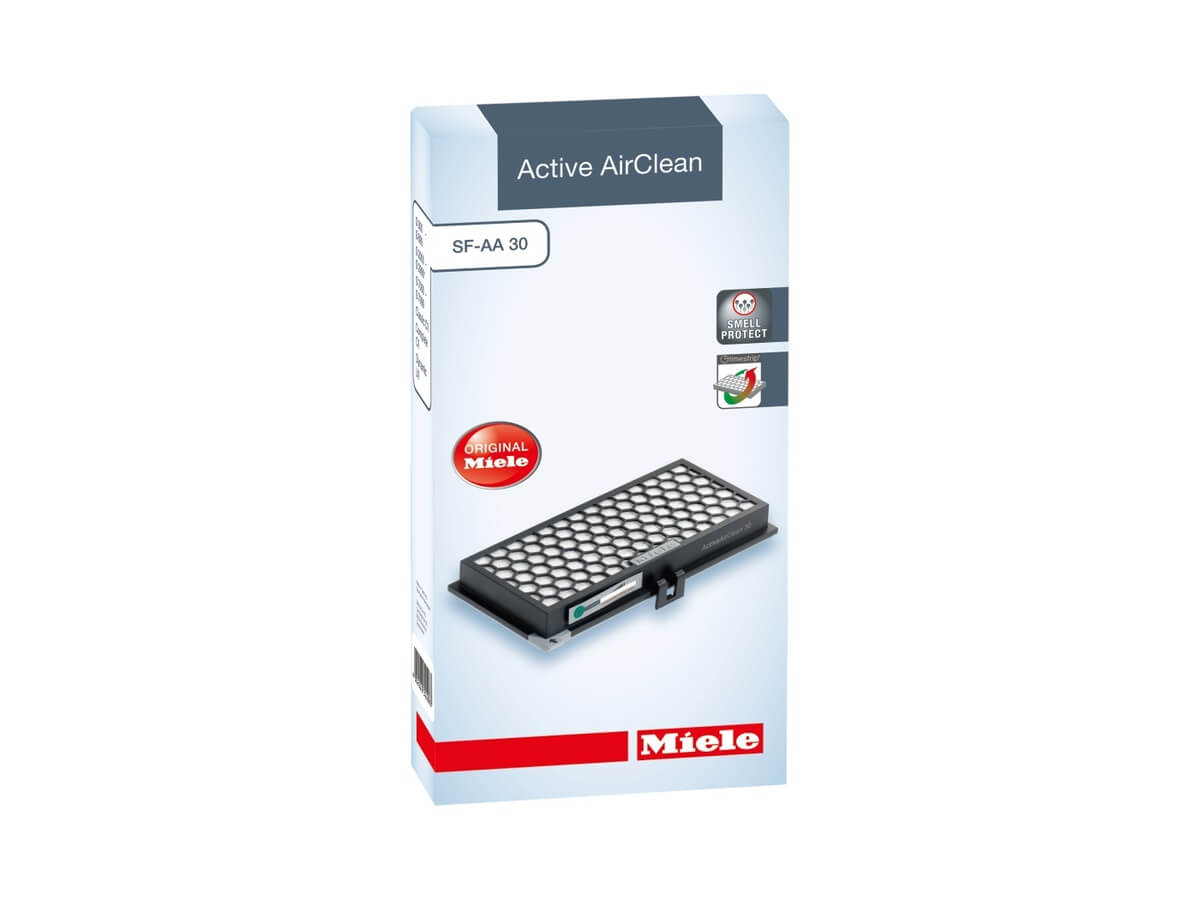 Miele Active Filter SF-AA 30
In Stock Shipping is processed within 1 business day
Need advice? Our staff are experts with a long experience in the business. We're here to help with any questions you may have.
The genuine Miele Active AirClean SF-AA 30 charcoal filter keeps your Miele vacuum cleaner running at peak performance. It helps to keep the air in your home clean and free of dust, dirt, and other airborne particles. It also features an Active AirClean charcoal layer that helps to absorb odors. With this filter, you can keep your home smelling fresh and clean.
The Miele Active Filter SF-AA 30 replaces the old Active SF-AAC 30 Filter
New and improved with Timestrip technology, the filter will let you know when it needs to be changed. AirClean particle filter plus 1/4 pound of activated carbon to remove unpleasant pet odors from vacuum exhaust.
How the Miele Active filter works: The SF-AA 30 is filled with carbon which helps absorb gas and odors before exhausting from the vacuum.
The Miele Active Filter is best for: Ridding your home of odors during and after vacuuming. Pets are normally the culprit, finer hairs and dander that are not trapped by the bag will burn off in the motor. The carbon helps trap the odor those oils in the hair and dander are giving off. Carbon will also trap any other odor causing debris that is being sucked up by your Miele vacuum.
The Miele Active Filter is not the best for: Anybody suffering from severe asthma or allergies. The SF-AA 30 does not have HEPA filtration.
When does the Miele Active Filter need to be changed?: The AA 30 can last up for a year of vacuuming. However if the carbon is absorbing odors at a faster rate the filter may need to be changed sooner. Rule of thumb is once odors start to be exhausted from the vacuum, the carbon is all used up and the filter needs to be changed.
| | | | | | |
| --- | --- | --- | --- | --- | --- |
| Series | Series | Series | Series | Series | Series |
| S300 | S400 | S500 | S600 | S2000/Classic C1 | S7000/Dynamic U1 |
| Red Star | S-401i | Solaris (All) | S-624i | Titan | Swing |
| White Star | S-428i | S-524i | Blue Moon | Homecare | Tango |
| Cat & Dog | White Pearl | Filtration Guard | | Delphi | Bolero |
| Medivac | PROFi | Monte Verde | | Capri | AutoEco |
| Blue Magic | | Artico | | Olympus | Homecare |
| Platinum | | Aluminum | | Exclusive | Cat & Dog |
| Ambiante | | Silver Moon | | Turbo Team | Fresh Air |
| S-314i | | Red Velvet | | Cat & Dog | Jazz |
| S-324i | | Electro | | Pure Suction | Salsa |
| S-328i | | Cat & Dog | | | Twist |
| | | Mercury | | | Power Plus |
| | | | | | Maverick |
Miele Active Filter SF-AA 30
Shipping/Delivery/Pickup
Shipping within US
Orders normally ship within 12-24 hours after submission. However, due to abnormally high order volume, our processing times can reach up to 2-3 business days. Our daily shipping cutoff time is 3pm PST. Order placed after this cutoff will ship the following business day.
We primarily use UPS ground for most shipments, however depending on the product size, weight, and shape we may choose to ship via USPS. If you have an urgent need for expediting shipping rates and times please call us directly at 408-354-4460. We are happy to accommodate.
Store/Curbside Pickup
All orders placed for Curbside pickup at our location will be ready within 1 hour of order placement.
Orders placed after 5pm weekdays and 3pm Saturdays may not be ready until the following business day. You will receive a text and or phone call to let you know when your order is ready. Customers may come into the store to pickup or simply reply to the text message to have your items delivered directly to your car outside. We are located at 457 N. Santa Cruz Ave in Los Gatos.
Designated parking stalls are clearly marked in front of our store for customers.
Local Delivery
Local deliveries will occur typically within 1 to 2 business days, we
will contact you after your order is placed. Local deliveries are
restricted by zip codes, if your address falls within the local delivery zone it will be an available option at checkout to select. If not
please choose the shipping or store/curbside pickup option.

All Things Clean provides true local delivery by one of our staff
experts to hand deliver your products directly to your doorstep. We also now offer unboxing, assembly, and in home product training to get the most out of your purchase and lessen the learning curve. These extra white glove services may be requested and purchased in advance by contacting us directly at 408-354-4460. Please have your order number ready when calling or texting. Rates charged vary by product.