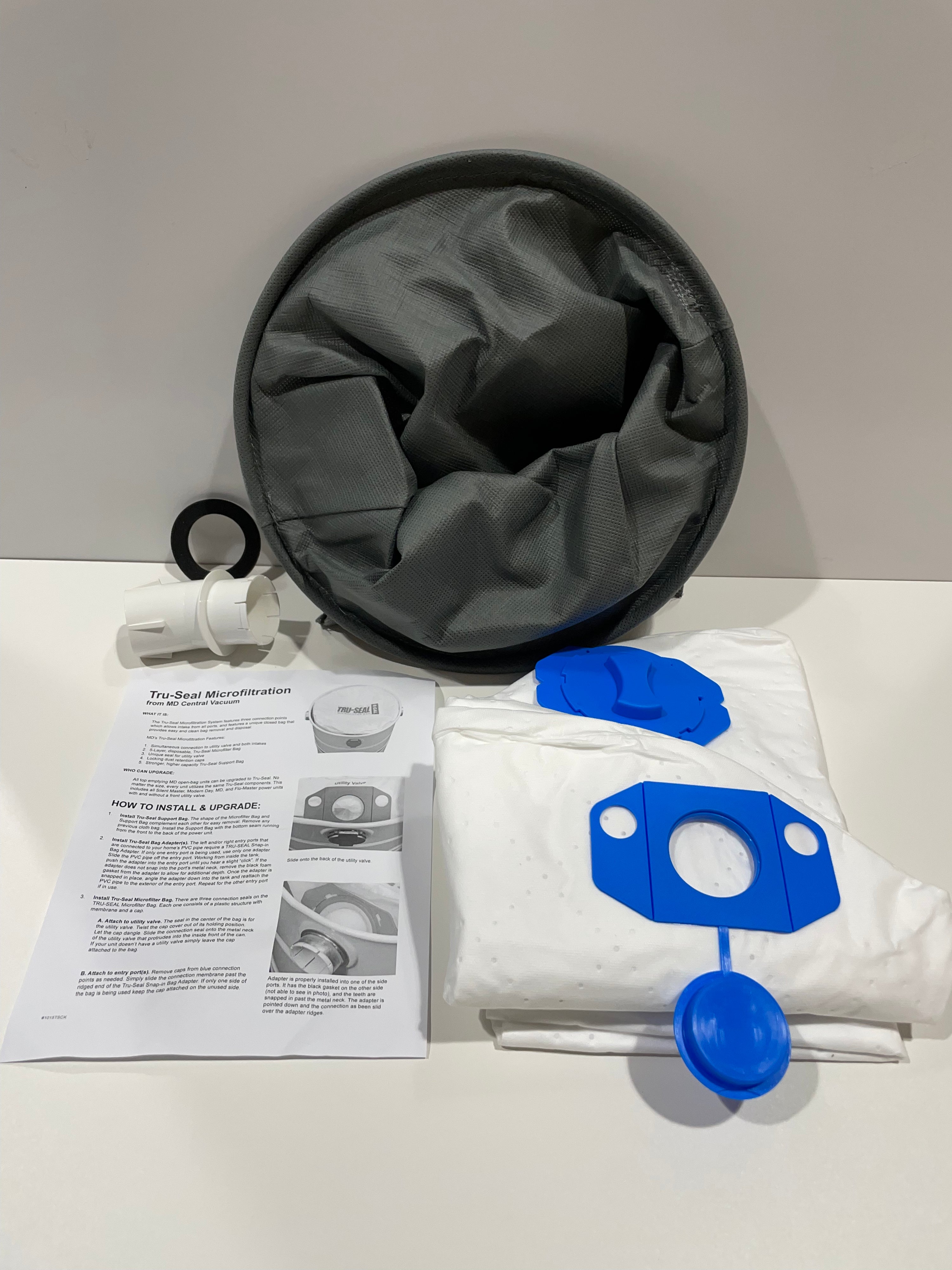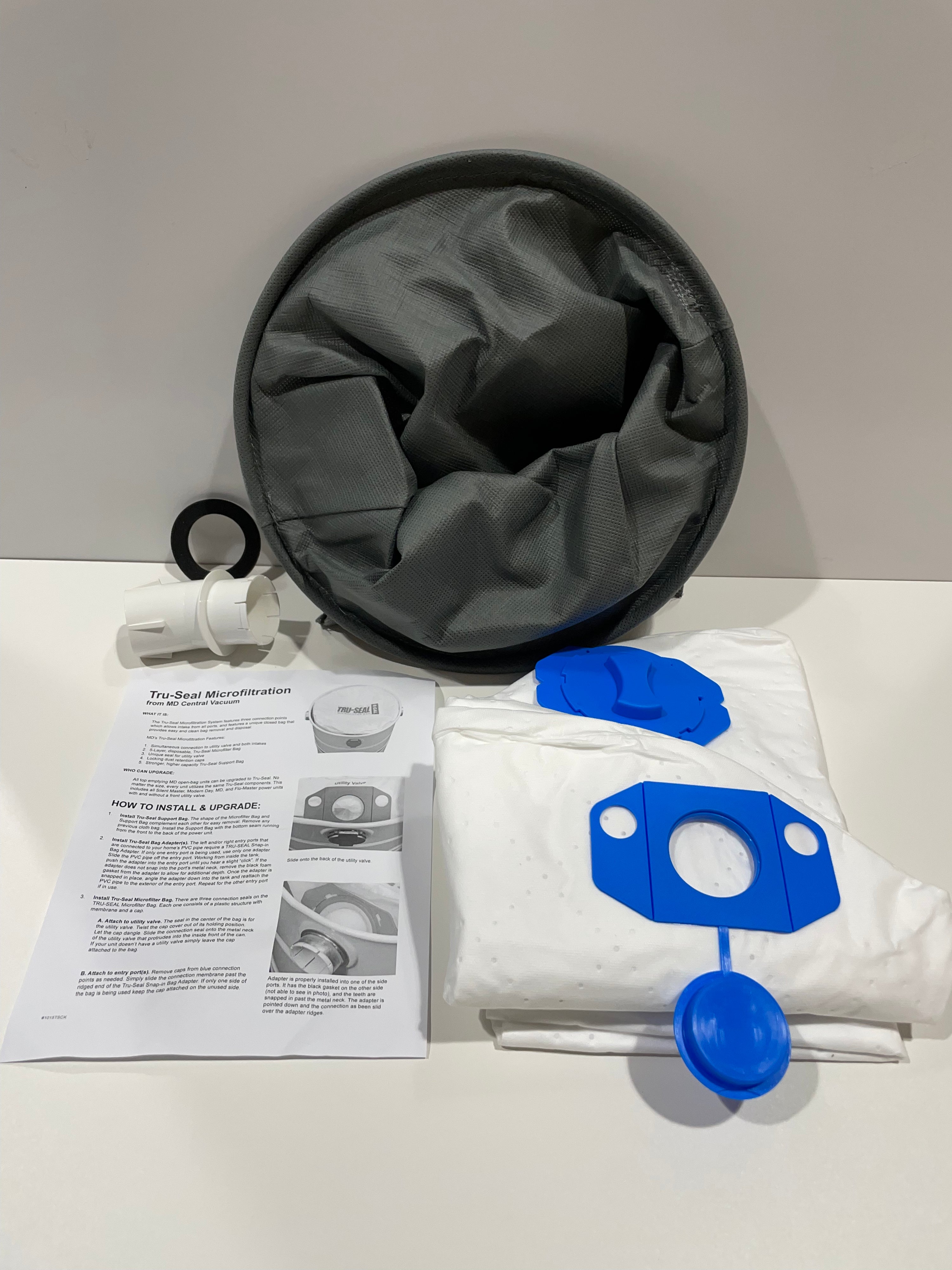 In Stock Shipping is processed within 1 business day
Need advice? Our staff are experts with a long experience in the business. We're here to help with any questions you may have.
Retrofits all 8 & 12 gallon units including all Silent Master, MD, Modern Day, Flo-Master, and Air-Master Vacuum Units.
Convert your dirty, open top filtration to a complete dust and debris encapsulating, hypoallergenic, and fully enclosed filtration system.
Cleaner Bag Changes!
Closed bag with 3 connections.
Easier, cleaner, healthier.
It's easy to upgrade to MD's Tru-Seal Microfiltration System — the new standard in all top-emptying 14" diameter central vacuum power units, including all 8 & 12 gallon systems. The Upgrade Kit includes 2 Tru-Seal Microfilter Bags, a new and improved bag adapter, and perfectly mating support bag.
TRU-SEAL BAG. The highly durable, Tru-Seal disposable filtration bag is a 5-ply microfilter that captures debris down to .3 microns. At 8-gallons, Tru-Seal has the largest trash capacity of any disposable residential central vacuum bag on the market. The side connections of the bag slip onto a Tru-Seal Adapter. The front utility valve connection simply slides onto the backside of the utility valve neck. If any connection on the bag is not used simply leave the included dust cap attached.
TRU-SEAL SUPPORT BAG. The Tru-Seal Support Bag must be installed in place of the existing blue support bag for proper fit and strength when the Tru-Seal Filtration system is being used. This support bag stays in the unit and the Tru-Seal Microfilter disposable bag fits properly inside it. This support bag fits into all MD, Modern Day, Silent Master, and Flo-Master power units no matter the height or previous filtration type. Sold individually. Diameter is 13-7/8 inches. Length is 13.5 inches.
TRU-SEAL ADAPTER. The new and improved bag adapter fits the Tru-Seal Microfilter bags and replaces all previous curved adapters when upgrading to the Tru-Seal Filtration. Use one for each side intake port, not for the front utility valve. Includes a round, black, foam gasket.
Note: If using both intake ports you will need to purchase an additional TRU-SEAL ADAPTER.
Simply follow the included instructions to install the new microfilter bag system.
Why upgrade? The Tru-Seal Microfiltration System features three connection points which allows debris intake from the front utility valve and both side intakes. The new bag is easy to install and change, while it's encapsulating design and locking caps make disposal very sanitary.
Shipping/Delivery/Pickup
Shipping within US
Orders normally ship within 12-24 hours after submission. However, due to abnormally high order volume, our processing times can reach up to 2-3 business days. Our daily shipping cutoff time is 3pm PST. Order placed after this cutoff will ship the following business day.
We primarily use UPS ground for most shipments, however depending on the product size, weight, and shape we may choose to ship via USPS. If you have an urgent need for expediting shipping rates and times please call us directly at 408-354-4460. We are happy to accommodate.
Store/Curbside Pickup
All orders placed for Curbside pickup at our location will be ready within 1 hour of order placement.
Orders placed after 5pm weekdays and 3pm Saturdays may not be ready until the following business day. You will receive a text and or phone call to let you know when your order is ready. Customers may come into the store to pickup or simply reply to the text message to have your items delivered directly to your car outside. We are located at 457 N. Santa Cruz Ave in Los Gatos.
Designated parking stalls are clearly marked in front of our store for customers.
Local Delivery
Local deliveries will occur typically within 1 to 2 business days, we
will contact you after your order is placed. Local deliveries are
restricted by zip codes, if your address falls within the local delivery zone it will be an available option at checkout to select. If not
please choose the shipping or store/curbside pickup option.

All Things Clean provides true local delivery by one of our staff
experts to hand deliver your products directly to your doorstep. We also now offer unboxing, assembly, and in home product training to get the most out of your purchase and lessen the learning curve. These extra white glove services may be requested and purchased in advance by contacting us directly at 408-354-4460. Please have your order number ready when calling or texting. Rates charged vary by product.